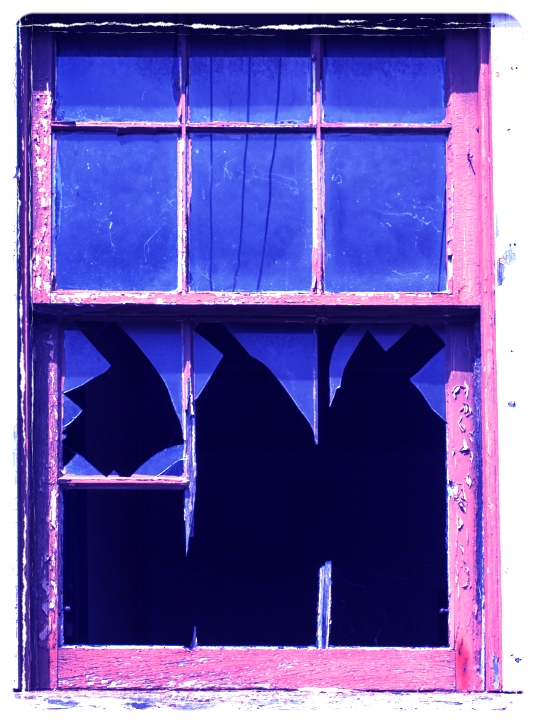 For the last month or so, it seems like I am constantly cleaning up broken glass. At first, it was funny. Firstborn and I would say "Oops, we have the dropsies!" But lately, it's stopped being funny and started being just plain strange.
We came home a couple weeks ago to find the glass in our outdoor table shattered for no apparent reason. And when I say shattered, I mean not a single piece of it was spared. Every square inch had been haphazardly divided in four and carved up accordingly.
After cleaning it up and scouring the patio for errant pieces, I thought we were safe, especially after a big rain storm came through and washed it clean. During another big rain, Firstborn and I were splashing through puddles and dancing (it's a thing), and he cut his foot open on a stray piece of glass.
A water glass got kicked off the coffee table at our Passover seder and didn't shatter, even though it fell onto the cement. But when I went to refill it, it cracked in half.
And this past weekend, I was pulling a glass down from the cupboard to get some water, and my elbow hit a wine glass that was on the counter waiting to be put up in the china cabinet. It shattered, and a shard of glass lodged into my elbow. And when I say it shattered, the goblet exploded into jagged shards and the stem stayed put on the counter like nothing had happened.
I'm not a superstitious person, but that's a lot of broken glass, kids.
And now that I think of it, my pondering the meaning of broken glass started long before these physical events. Two years ago, while I was working on Chasing Those Devil Bones, I was stuck. So stuck that I had to jump ahead to the seventh book of the Clementine Toledano series and write it, almost to completion. It was while writing this book that I came up with the idea of the Scarification album that Q and Derek write together in Chasing Those Devil Bones.
Scarification is a concept album about a child who carves their skin open with broken shards of glass to let the magic inside of them bleed out. It's dark and tragic, much like Derek and Q themselves, and the idea for it came out of nowhere. I was writing a scene in that seventh book (working title, Gods and Devils) and it just wrote itself. This isn't a surprise now. I've learned that Derek Sharp demands to tell his own story when he wants to and I have very little to say about it. And now that I'm getting closer to revealing the deeper meaning of this album in the series, broken glass starts following me wherever I go. The universe is a magical place, no?
The shattering. That's how you end a Jewish wedding. The breaking of the old life and the beginning of the new. A reminder that even in joyous times, sadness exists.
In my own life, this constant reminder of shattering is a little more prescient. You see, my life is awash in new beginnings at the moment. I'm starting a new book (working title, Until the Devil Weeps), taking on new challenges in my career, and, as for me? I'm a walking, talking fresh start.
When something shatters, there is no going back. Sometimes that's a bad thing, but a lot of the time, it's not. I spent years being miserable and uncomfortable in my own skin. It took two years, three novels, and a concerted psychological and physical effort to retrieve the fragments of myself that still existed and pull them back up to the surface.
And until a few days ago, slipping back into my old patterns was a comfortable pair of pajamas that constantly stared at me from the hidden corners of my inner closet. But then that piece of glass lodged into my arm.
As I stared at this sharp object protruding from my skin, watching the blood trickle down my arm, I realized that I can't go back. There is no going back.
Also, that having a piece of glass stuck in your arm is painful. I yanked it out and was relieved to find that I didn't need a stitch. It hurt for the rest of the day and most of the next morning. But somehow, during those few hours of discomfort, my own shattering was complete.
Sometimes you need a physical reminder that new beginnings are ugly and painful before they're inspiring and beautiful. Birth may be beautiful, but laboring is an unpleasant, agonizing business.
That these transformative experiences are so rare in a lifetime is the reason they're so common in fiction. It's the main goal of any character-driven book: How are the characters transformed by their experiences?
In That Old Devil Sin, Q learns that world is beautiful and can offer love.
In Devil Take Me Down, Ben faces the ugliness of the world that he can ignore so easily, most days.
In Chasing Those Devil Bones, Sanger discovers that he can't walk through the world alone.
In The Devil's Luck, Derek decides that he can trust someone with his vulnerability and still be safe.
Of course, larger transformative experiences happen in each book, but it's important for me that all my characters get a little something out of the raw deal that I hand them every time I start a new Clementine Toledano mystery.
And there's a lesson in that. Life hands out raw deals all the time. The important thing is to get something out of it.